Research.
Development.
Global.
MediaMobil participates in international and national R&D programs. The objective is primarily to develop communications services and applications. In this respect, MediaMobil has a track record of commercializing developments from R&D projects.
Research and development projects challenge us to think in new approaches, to significantly develop previous technologies and to follow new ideas so that we can design the best solutions for our customers. For example, the SASSatSEA research project in 2010 gave us the start to our maritime services, which enabled us to grow into the maritime market.
Our Multilink Gateway MLG was also created in this way and has since supported our customers with many different features. Through research and development projects, we are already able to offer reliable, innovative and customized communication solutions of tomorrow to a large number of customers.
Ongoing research and development projects
Research and development projects completed

Communication for Offshore
The Com4Offshore project funded by ESA (European Space Agency) was recently completed, which aimed to develop a cloud-based and interactive communication and monitoring solution for the construction and operational phase of offshore wind farms.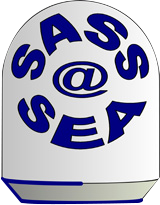 Satellite Based Alarm and Surveillance System
The overall objective of the SASS@Sea project was to develop and validate a system to provide an integrated maritime communications service.

Satellite Based Alarm and Surveillance System
The objective of the SASS-2IP project was to develop, implement and validate improvements to the satellite-based alerting and monitoring system, developed in an earlier ARTES-3 project in an extended field trial.

Enhanced Information Services for the Exchange of Multimedia Information between Port Areas

Satellite UMTS Multimedia Trials over Integrated Testbeds
The SUMO project aimed to identify and demonstrate generic approaches to support UMTS services and network control, with a focus on the satellite segment.
.

Inter-Trial Testbed of Mobile Applications for Broadband Communications

Satellite Integrated Services for the Year 2000
A European research project under the patronage of TEN-Telecom has developed a mobile satellite communications service, that supports the latest multimedia communications. SATISFY2000 has provided high-speed communications services to mobile users worldwide.